Off to a great start!!




Only recommendation I would have is If they were my plants I would start cleaning them up. Getting on the bushy side.
Awesome thank you. My first tent grow any recommendations are welcomed. I'll give them a little trim. Get rid of some of those large fan leaves
@Joe_7932 way to jump in there

nice job
Only way to learn is to do it.
Looking great!! I keep looking at tent setups and idk why I'm so nervous about it!

Just have to go for it. This is great community here and the discord and everyone is happy to help.
I know it. The more I read though, sometimes it becomes more overwhelming. So many components to consider! I know everyone's right that I'll just have to take the plunge! I so just want to do it right…


Of course. Just need to think if you want soil or hydro. Then get just the basics to start. Even if you start with one plant first to get use to it.
That's an excellent question that I keep asking myself. Soil or hydro, soil or hydro?

Personally I like hydro so I don't have to deal with soil and moving heavy buckets around.
There coming along nicely, had some cal-mag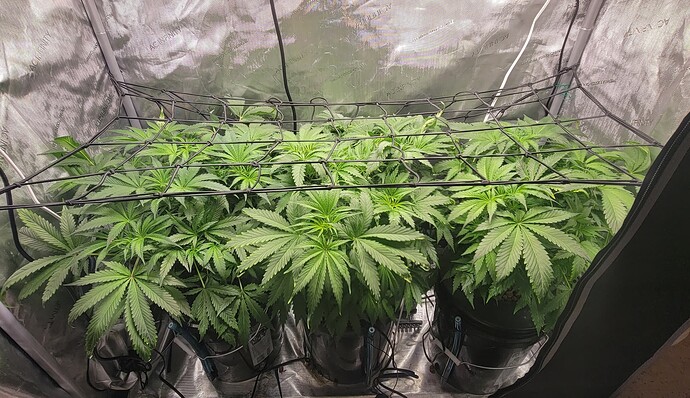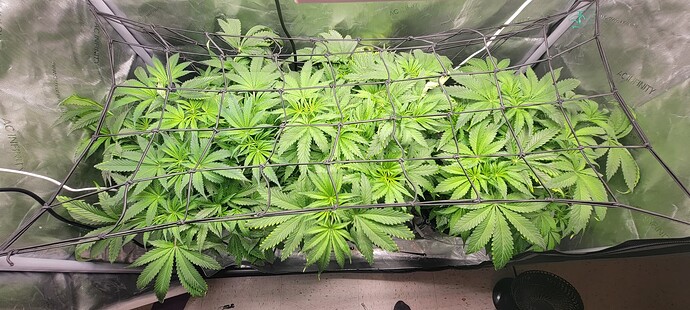 issues but recovered nicely. Once it gets threw the net I'm going to flip it. I saw in a video some guy playing around with giving the plant 36 hours of dark before going 12/12 supposedly it helps buds foram faster. Since this is my first grow might not try it yet.
There is no right or wrong answer to this question but I look at this and that alot of water to dump and mix weekly… For me Hydro is alot more work than soil
Plants look great! Nice job… I still say a nice cleanup will be helpful
Yeah, hydro or soil I think just comes down to preference.
Definitely learned I need to trim and train a lot sooner. I placed my net a little to high as well. This first grow has been a great learning experience. So much different than grobo.