Nice plant! It should dry just the same maybe a tad longer!
Thx

appreciate that


I'm impressed that the whole thing is being held by one wire!

Thanks

I'm pretty impressed my self


Ok

my haze has been drying for 5 days look

like needs a lot more time I did notice everything getting closed in an tighter @Vicc is that normal meaning is that supposed to happen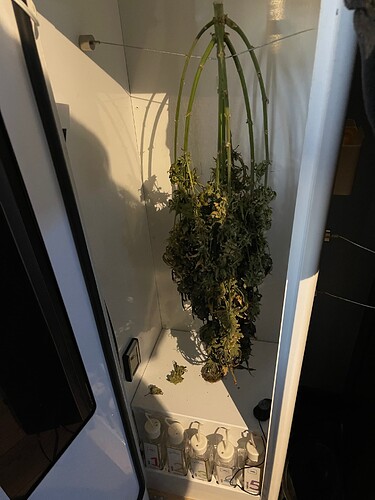 Hanging the entire plant will take you over 20 days if you are running at 55% RH is my guess.
I am over 25 days and only able to trim 1/16 plants I have hanging.
Here's how mines look today [day 25]
That looks

like the finish product I'm trying to have my rh is at 58 my temp is at 61 urs looks

great by the way


I set my humidity to turn on at 58% RH and off at 62% with constant negative pressure and my mini fans running. Our temp is the same
Exactly the same that is crazy

an cool

man I just wanted to try this I seen it done

this way to many times for me not to try it out that way plus once I seen the jungle boys doing it I was sold


When I hang my plants whole I always come up with ways to make sure the buds from different branch's don't touch. It looks like you guys just hang. Any problems with them touching? I'm always looking to save time
I did mention that earlier but this is my first try on this method so wasn't to sure on that I said it look

like it's getting sucked in but I didn't see the jungle boys doing that they just had hundreds of them just hanging


Majority of mines looks ready now and trimming has begun. @Mpower11 what do you do to keep the colas separated?
How many do u have to trim again an how long do u think

that is going to take u an one

last thing do u do it by hand

or do u have a trimming machine


… #15
- - - [2022-01.05]:
…
.
…
.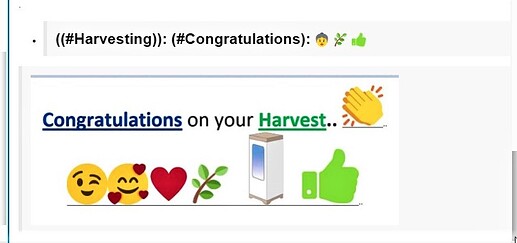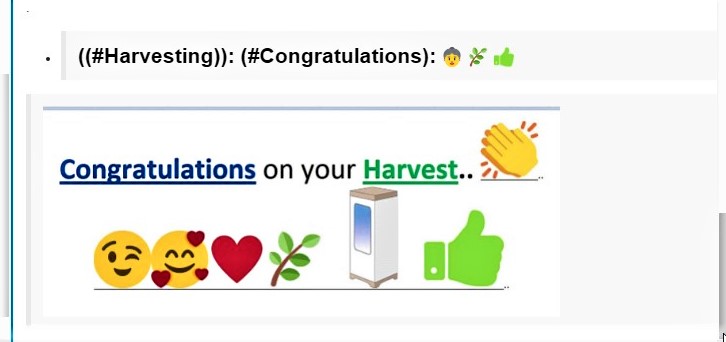 .
-
-

---
~ ~ ~ ~ ~ ~ ~ ~ ~ ~ ~ ~ ~ ~ ~ ~ ~ ~ ~ ~ ~ ~ ~ ~ ~ ~ ~ ~ ~ ~ ~ ~ ~ ~ ~ ~ ~ ~ ~ ~ ~ ~ ~ ~ ~ ~ ~ ~ ~ ~ ~
I plan to trim about a plant a day and take it easy to allow bigger one to fully dry longer.
I am using mini sewing hand scissors, a 19" bowl trimmer and a cannabrush.
How do them trimmers work out
in ur opinion


I use a laundry drying rack like this
I put the plant threw the bars pulling it apart and something use ties to move branch if needed…
I also have a clip drying rack. I will have to get a picture when I get home
Thanks for giving me

That's pretty clever there bud u be having some crazy

ideas

man I love it