I have been looking for an affordable water chiller for three to five gallons.
I believe I've found one

I purchased the first one on eBay. Amazon has ridiculous shipping charges. I did find this one though eBay.
BJTDLLX 30L Aquarium Water Chiller, 100W AC 110V 1-3L/Min Circulating Water Pump Flow Aquarium Water Chiller Fish Tank Shrimp Cooler Cooling Machine with LCD Display https://a.co/d/6bx5oLI
First day I set it up on the counter with a three gallon bucket. Water was 88F it cooled it to 66F in about 8hrs.
(Before I go any further it's all in Celsius!)
I set up my five gallon bucket with closer to 77F water. It cooled down fast (within a couple hours it was 66F.
You can adjust temp to turn on and off at a set temperature and also set how many degrees before it kicks in. Mine is within 1 degree.
(Comes on at 18.5C and off at 19.5C.)
It so far easily maintains water temperature.
I'm very happy so far.
Now the instructions are typical foreign to English conversion. It took me an hour to figure out how to work it. Some of you maybe faster. But if you're not I can help.
I haven't checked PH/EC differences yet as I only have minimal nutrients for seedling

.
When she gets bigger I'll bring the temperature closer to 65F. I actually could probably warm it up until she gets bigger.
The only negative is the hot ass driver. Just like grobo driver.
Mine is inside because I really can't put it outside without extra work. it works fine inside. No major heat problems. My space has a/c and at 75F it seems to work fine. Also the closer your hoses are to the unit/bucket the better cooling you get without water traveling to far.
Comes with hose. I just cut mine in half and works for me.
It's rated at (30L). Like I said it can easily maintain 3-5 gallons.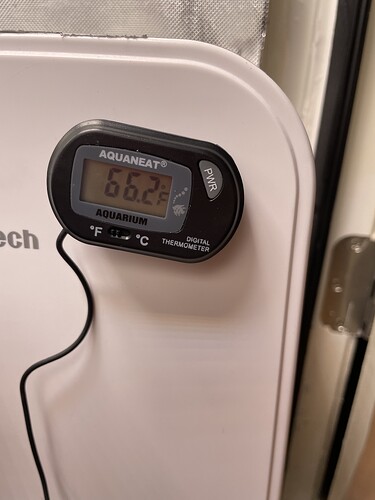 It's 30 not 35L. (Edit)