@Bandit how are your grows comin' along?
Nice Strain you picked Gelato is a great choice
They seem to be coming along. The smaller one had gotten root rot, but I think I brought it back around. Appreciate you asking.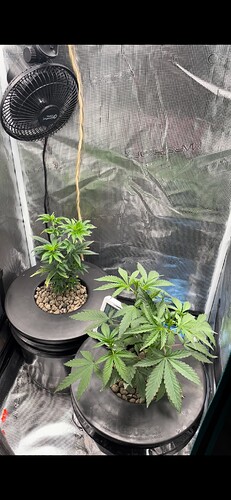 what size tent do you have? it appears it might be a bit cramp for two grows
I thought the same after awhile. It's 2x2.
a minimum 2' x 2'

area is recommended for 1 full grow cycle…smaller sizes will make it too crowded during the flower stage…
more room around each colas = better air circulation = improved bud size and density

You think I could transplant to the Grobo?
i don't think it would be possible to get your roots out of that net pod now…your roots should be a decent size by now
Yes you're right there. I'll move one out of the tent and start to introduce it to outside. Or a makeshift grow area. Live and learn.
best way to learn


how u lookin now

can you take a photo of a couple steps back as i just wanted a reminder of your setup
Man I'm really sorry it's taken me so long to get back to you. Family experiencing major health issues and I didn't think I was giving it the time it needed. But it's come along really well. Looks like about one more week and then I'll flush. Trichomes are good for me. Don't want a total head bang.
best wishes to you and your fam…hope things get better…glad to see you almost ready with your harvest
Thank you. Nothing like family so I really appreciate the thought.
Is it OK to back out of flush after about a week and feed for another couple weeks?
what week of flower are you in? you seem close. …
what color are your trichomes?
i would just continue to flush (water w/ no nutrients) until your desired color trichomes come along
Yes I'll just do that. They ambered up the past few days.
We'll we're in that good stage! How's it hanging-lol Had 6 colas over 5 1/4 inches long. The most dense buds I've grown to date.