I'm a fan of the ocean forest soil… Not so much a fan of Miracle Grow!!
Good like on the grow


Let there be life! 3 of 6 are alive. I did not plan on keeping 6 any way, was having trouble with germination so just through 6 beans in different grow mediums and said we will see what happens.

Are you planning to use this tent to fully grow out your plants?


Yes absolutely that's the plan
Do you see any problems I should be aware of?
2 is the end goal. The greedy side of me want to keep them all

You will need ventilation as they grow something to circulate the air and to a vent it out the tent
So a fan and a duct fan system
I have a 6 inch fan and filter connected and running they are just behind the tent @Time2grow but I guess I probably still need a couple clip on fans?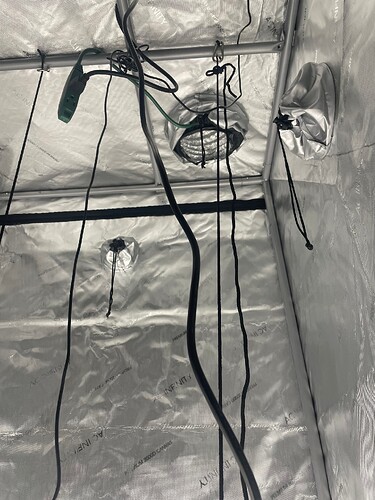 At least 2 if you are running that many ladies in there will also need a temp and humidity meter if you don't have one mmm
Cherry Pie is one of my favorites:)
Intake fan should be coming in through one of the bottom holes of the tent, outtake fan should be routed out through one of the holes on top.
Otherwise, looks fine. Good advice from the others, looking forward to seeing the results!
Thanks @Time2grow I got one of them to built into my ac infinity exhaust fan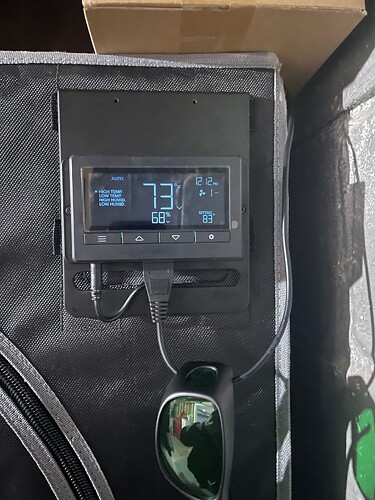 I have one of the bottom vents open I guess it's a passsive intake
And have the exhaust coming out the whole at the top
This is how I run my tent.
That works but having a bottom intake fan is better. If you're buying anything just make sure it's variable speed
Miracle grow is not what you want to be using. Fox Farm or ProMix are the only soil I use, and I've never met an experienced grower use miracle grow. Just too much nastiness in that stuff. You will also get much much better results from the aforementioned soils. Good luck. Try one of those soils when you transplant


Glad to see you're getting going brother!
For the space I was hoping you weren't keeping them all…
You could grow one and fill your entire tent Unless its variety you crave!
I can't wait to watcb them bloom!


Hoping to keep 2. Its 3 by 3 by 6 feet. I was having some trouble with germination so I started to many. So going to pick the best 2 although it will be hard to part with them. Never know might end up with another tent before then