I had 1 bottle of 3 left, but no 4; so I decided to replace both 3 & 4 at the same time once I was ready to transplant. I am transplanting a ILGM Skywalker OG.
Unfortunately this plant accidentally went into flower last week. I skipped drying my last harvest in the Grobo and put the Start in the box to use the lights at a 20 hour cycle. I also topped, trimmed, and started LST. I was hoping this would get it back to veg, so far it still seems to be flowering.
I don't think this will matter to finding out whether or not GreenPlanet Duel Fuel is a good replacement for Grobo nutes.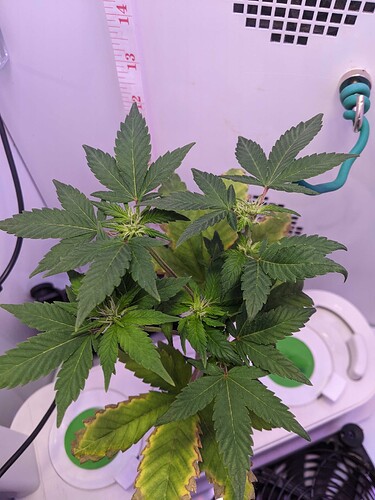 *funny thing: Duel Fuel 1 is almost exactly the same color as Grobo 3 is. Duel Fuel 2 is a little cloudier than Grobo 4 was. - Its looking like the assumption that Grobo was just watering down GreenPlanet is probably correct.
I used Rhino Skin in my last 3 grows, switching to Armor Si for this one. (Its just easier to get) I believe Rhino Skin gave my plants really strong stems.