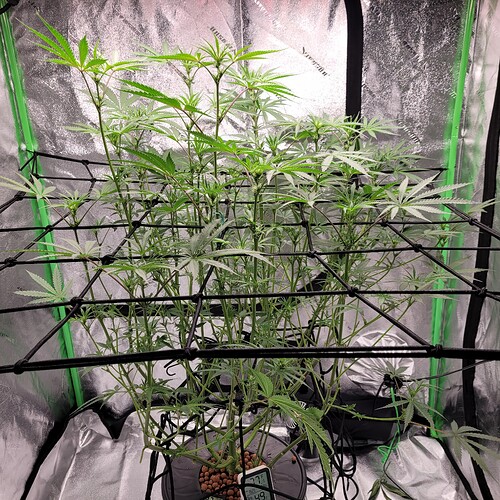 Day 21 flower. glad forum is back . Thanks
@FireGuy
Thank you brother, happy growing!
Thanks. iv learned a lot from yalls tent grows.
Go big or go home…my philosophy now


I am doing the SCROG method just beginning just for my knowledge should those tall branches be bent back down under the net now or no?
I normally like to bend the tall ones outwards and guide the shorter ones towards the center, creating a

or crater
If you look closely that's what I did .the tallest branches are the side branches. The main are on the outside. Crazy

growing plant. @Vicc
If she was in veg I would. but now that she's in flower I let her grow.the second scrog net is just to hold up the branches up . they will be getting heavy soon and will adjust net as needed. @Fireball
I see so I will eventually need another net im guessing glad I mentioned that i only knew about having one net
the 2nd net will help keep them straight up when they are finishing so more light can travel towards the bottom.
Big plants tend to be sloppy finishers so the support scrog really helps
@Christifer what happened to your other smaller grow that was in the "towel covered" bucket


Air pump died and it didn't make it .the pump was making noise but it was broken.
sorry for your lost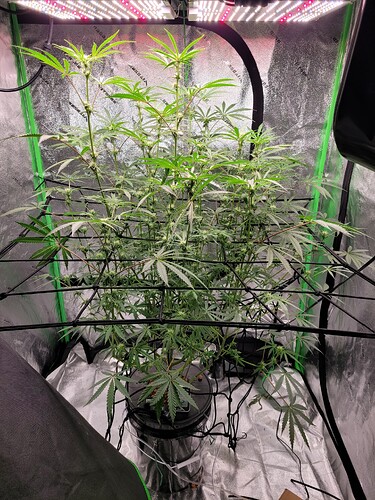 Update.( Morning pic)Had to move lights up this morning
hopefully she's done stretching. Monster plant.
Lights are still probably too close IMHO. I would super crop at this point ( kink and bend the tallest branches over ). You want at least 12-18 inches to the tops of your plants.
Plant looks nice and happy otherwise!
I'd also trim off all the lower branches to about 1/2 way up the plant/anything below the net
Loving my tent bud is going to be huge
yeah I moved up my light this morning.i planed to do All that when I changed my water so it don't stress her to much .thanks for your input its always appreciated

. @GameDevGrower