Man I've been missing u guys for the past week but I'm back


I feel ya. I am so glad I had transitioned to tent. I am still learning on the daily but extremely willing to help out with the knowledge my past grows and current one have taught me.
I feel u bro

I'm pretty much in the same boat

never grew organic before so I had my back to the wall cause I can see on my masterkush an skunk

it developing some burn

I was going crazy trying to find use @Mpower11


Hey bro

I know u ain't growing organically in ur tent

but I do remember u saying u do outside so can u help me with this an tell me what u think @Vicc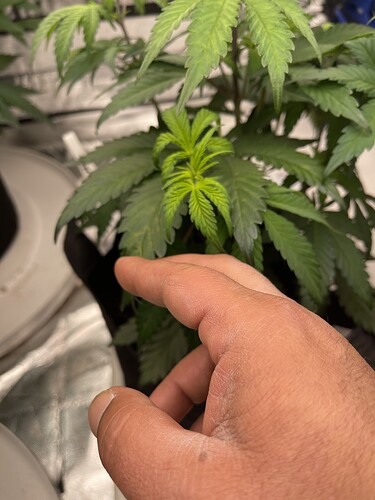 My tent is 100% organic with this grow. Not real sure about your light and driver as I use California Lightworks light with variable digital controller but light looks awful close to plants. I do bare minimum of 24 inches from my girls at all times.
Oh wow

I have the 650 Diablo an I have my light

right now 30" off the ground an are u using Gaia green products that's what I have


I was about to say the same thing, I would get your light closer so you can get more coverage to the bottom
Great

so how much higher u suggest me pull my light

up

@Fresh


I know u have a par meter. But with my digital controller I stay a minimum of 24 inches away from my plants at all times.
Yes I use Gaia green products. Rule of thumb for me is 24 inches from top of canopy.
What do u suggest 350 par or 300


My controller handles all that for par level. Maybe @Vicc or @Mpower11 would be more help to u determining par level.
I will post my current grow and tag u so u can follow!
Early Veg, I aim for 400 umol bottom leaves 600 umol max top cola if you are using co2. If not, lower the par by 20%
No no co2 yet do have a bottle tho from the grobo but wasn't planning on using it for this grow wanted to get the tanks but will see

thanks

tho much help


Hey Bro welcome back… If they were my plants I would have my par around 300 right now… Maybe even 275 you want your plants to recover from the light stress
I would go with the numbers suggested by @Mpower11 until you are comfortable with pushing your plants.
I normally go by the guide provided by floraflex which is boarder line pushing the plants to the limit
https://floraflex.com/CAD/how-to-grow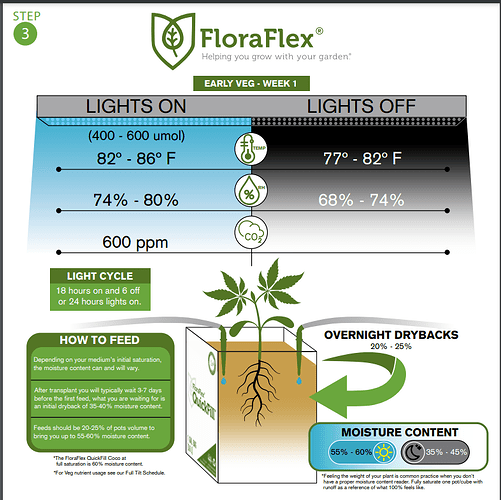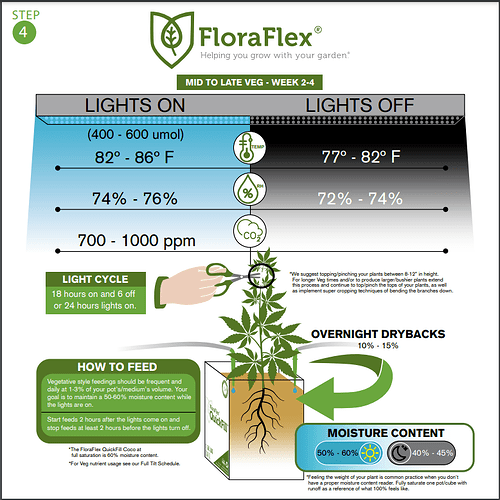 That's a nice chart I haven't seen that one before.
Also I do recommend there line for nutes if anyone is planning on growing synthetic. I have had great results with them in the past.
From the top of the plant to the light how much distance was that…
Since I can't go back and look I forgot when did you transplant into the 5 gallons pots? and what size was it before?
Ok

well the big bud an masterkushxskunk

are on day 36 an the haze an sour are on day 25 from the top of my plant

to the light

is about 12" was gonna pull it up

more like @Fresh @Vicc said but I was just waiting till they let me back out to confirm everything with u with the par an everything like that